EXTRA-CURRICULAR & CO-CURRICULAR ACTIVITIES
Extra-Curricular & Co-curricular activities
Extracurricular and co-curricular activities form a vital part of student life here at SSSMCRI In addition to academic pursuits, extracurricular activities make up a valuable part of the overall institutional Experience. This will help to improve their teamwork skills, and ability to build meaningful relationship with friends and peers, as well as with junior and senior students creating unique opportunities for learning. Responsibility, good judgment and endurance can also be developed during such activities.
SSSMCRI celebrates spectacular interclass competition once a year comprising of sports and literary events, in addition to several cultural and fine arts activities including music, dance, and drama. The students come from different part of India and thus, bring a wide range of viewpoints and experiences, they are exposed to various extracurricular and co-curricular activities within and outside the campus, so multifaceted learning among the students makes the life rich, energetic and engaging. Within the campus, students get involved in different activities viz sports, performing arts, fine arts, Debate, Literary, poster presentation, etc. to develop and demonstrate various skills and interests, and this helps them to groom themselves on various parameters.
Our students participated in the intercollegiate meet Held at SRM Medical College Hospital and Research Centre, Kattankulathur on 24 th to 27 th October 2018 and won trophies for Cricket: Winners (Men & Women), Javelin: Runner (Women),Third Place (Men) Relay: Runner (Women), Third Place (Men), Shot put: Runner (Men) 800m: Third Place (Men) Long Jump: Third Place (Women), Group Dance: Third Place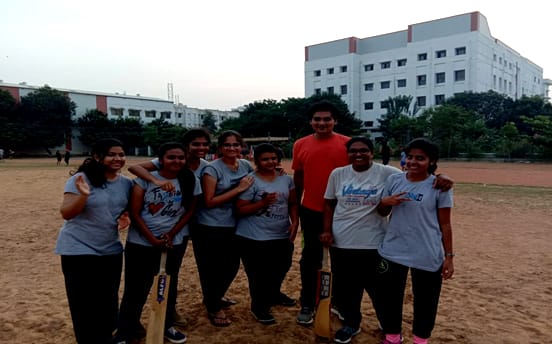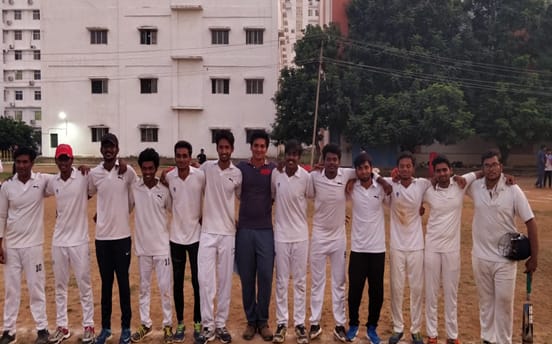 Onam was celebrated with all its vigor at SSSMCRI. Vice Principal Curriculum Prof. Dr. Saurabh Shrivastava, Vice Principal Student Affairs Prof. Dr. Abilash, Heads of departments and faculties were present to witness the festivities. The students have made flower carpets (Pookkalam), Nirapara, Nila Vilakku and Maveli Mannan was given a grand welcome with thiruvathira, Onappattukal and Chenda Melam. Inaddition there were various cultural performances by the students. All the faculties and students had the delicious onam feast and celebration concluded with distribution of sweets (Payasam-traditional kerala desert)
Teachers Day Celebration-2019
SSSMCRI celebrated teachers' day on the 4th September 2O19. The occasion was graced by our honourable Dean SSSMCRI, Associate Dean Research Dr.Karthika Jayakumar, Vice Principal- Curriculum Associate, Professor Dr. Saurabh Shrivastava, Vice Principal- Student Affairs Associate Professor Dr. Abilash, Heads of Various Departments and the other teaching faculties of the college. The event commenced with a welcome address by student council General Secretary Mr. Joshua Anand. Honorable Dean SSSMCRI felicitated Senior Teachers followed by Presidential Remarks by the Dean and Vote of thanks by Ms. Karuna: Co- General Secretary Student Council. After which the dignitaries commemorated the achievements of the teachers by cutting a cake. All faculties participated in the fun events organized by the student council.
150th Birthday Celebrations of Father of our Nation- 2019
international Non-Violence Day and the 150th birth anniversary of the Father of our nation, Mahatma Gandhi, has been organized in the Shri Sathya Sai Medical College and Research Institute on 1st October 2019 at 2.30 PM in the College Block, Dr. Sarvepalli Radhakrishnan Ground floor Hall. The program was coordinated and organized by the Vice Principal Curriculum Dr. Saurabh Shrivastava and Vice Principal Student Affairs Dr. Abilash.
About fifty teaching faculties including Dean, Vice Principals, Heads of various clinical and non-clinical departments, other Teaching Faculties, and students of III, V & VII Semester students of SSSMCRI have participated the program.
The Master of the ceremony of the program was Ms.Khavya, Xanthrones 2017 Batch. The program started at 2.30pm with invocation song followed by SBV and SSSMCRI anthem. Ms.Rajashree, Immaculates 2016 Batch student welcomed the gathering by sharing her views on AHIMSA. Our institutional choir comprising of Deeksha, Gayathri, Shambhabi, Aishwarya and Ananya of Immaculates 2016 Batch remembered the contribution of Mahatma Gandhi by singing a Ghandhi Bhajan.
In order to commemorate the event, one of the Student Clubs – Debate and Literature Club, under the guidance of Faculty Advisor took the lead to organize an Elocution Competition on the topic "Role of youths in non-violence". All the participants were informed about the event well in advance and were given instructions to limit their presentations to 3 minutes per participant. The participants were a mixture of students from different batches, namely Ms. Shika and Mr. Rajdeep (Celestials – 2018), Mr. Balaji and Ms. Shubheksha (Immaculates – 2016) and Ms. Keerthana (Xanthrones – 2017). All the participants expressed their views in an interactive and appealing manner and they kept all the audience glued to them in the entire competition. Their speeches were very much supported by recent examples and role models.
The event was judged by a panel of 3 judges, comprising of Dr. Pushpa Kotur (OBGY), Dr. Valli (ENT) and Dr. Prateek Bobhate (Community Medicine) with the help of a structured checklist / scoring sheet. The scoring sheet consisted of 5 variables, namely Content, Organization of thoughts and ideas, Language (Grammar and Comprehension), Delivery and Voice Modulation, and Gestures and Expressions, each accounting for 10 marks, leading to a cumulative total of 50 marks. The scores of the judges were compiled and the students were rewarded by the Dean and the judges for their breath-taking and interactive performance.